Motoryacht Charter
Motoryacht Charter
Cruising one or two weeks motoryacht charter in Turkey the secluded coves and anchorage places close to mother nature would leave you amazed. Nothing compares to the virgin coastline in southwestern Turkish riviera, the Mediterranean, and the Aegean Seas when you choose to make your motoryacht charter and gulet charter holiday on board a luxury motor yacht charter or modern, luxury gulet.
We would like to invite you to check our motoryacht charter portfolio for your coming vacation. Hundreds of motor yachts and luxury gulets are offered in motor yacht charter portfolio. Please call us or send us an email, concerning your coming vacation. Your daily or weekly motoryacht charter Turkey will let you know more about the greatest motoryacht charter destinations in Bodrum.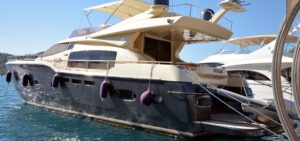 When you approach the coast while on board of your luxury motor yacht rent, lush olive forests at the foot of the mountain seem to be quite majestic for the first look. You might be interested in exploring the forests and don't forget to bring your professional camera and your binoculars as well to enjoy the scenery of the place. Luxury motor yacht rent The wonderful scenery will meet you when you first step into the Turkish Riviera that covers very long distances between the Mediterranean and the Aegean seas.
Every year, millions of holidaymakers come to enjoy their summer holidays in wonderful destinations of the Turkish Riviera. Green mountains are standing proudly as if they are telling the story of beauty to new summer comers!