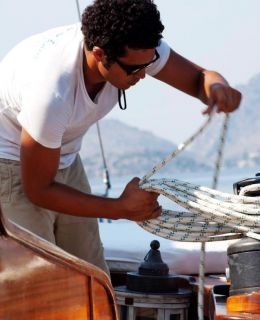 Yacht Crew
Even though it looks very pleasant and well paid, it is not for everyone to work on a yacht, since yacht crew has to be always ready to attend the owners and the guests and should be willing to work extra hours when serving and maintaining high standards of service for the guests.
Professional yacht crew should be always alert and never leave the yacht unattended, even if you are inside the marina with mooring lines and fenders, an incoming yacht which might be mooring alongside may and easily harm your yacht or in the night at the anchorage, the ships anchor may be dragging and consequences can be serious.
Yacht owners rely on their crew for the well being of their yacht, thats why owners are naturally very picky when it comes to choose the right crew.
Yacht Crew Turkey
Yacht owners in general choose their captain and then ask him to pick his own crew in order to perform better with his service. for yacht Crew inquiries in Turkey Please contact us via crewaboard  and yat personeli when looking for qualified yacht crew.
Crew Aboard is Internationally recognized Yacht Crew Placement Agency in Turkey with 21 years in business can provide you reliable, experienced captains and qualified yacht crew, whenever and wherever you need them. meanwhile Yacht crew may simply fill in the forms and leave their Curriculum Vitae in our website. yacht crew Turkey